Rune Factory: Tides of Destiny Trophies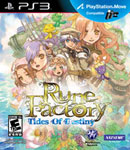 Total Trophies: 38Aden and Sonja, two lifelong friends, live a tranquil life on Fenith Island until they're struck by a mysterious curse: they awaken to find both of their souls are now trapped in the same body! On top of this unusual calamity, the Fenith they knew is gone, replaced by a strange island populated with unfamiliar faces. Only by exploring this new world will they be able to solve the mystery of this curse and save their beloved Island.

Trophies:
Rune Factory Master
Earn all trophies.
Island Raiser
Use the Plant Golem to raise an island out of the sea.
Island Savior
Raise all of the islands out of the sea.
Beginning Salvager
Successfully salvage 10 times.
Veteran Salvager
Successfully salvage 20 times.
Master Salvager
Successfully salvage 30 times.
Rock Hard Riddle
Get to the bottom of why Sprout Island turned to stone.
Monster Battler
Defeat 100 monsters.
Monster Masher
Defeat 500 monsters.
Monster Destroyer
Defeat 1500 monsters.
That Which Monsters Fear
Defeat 3000 monsters.
That Which Monsters Flee
Defeat 5000 monsters.
Giant Battler
Defeat 10 giant monsters.
Giant Slayer
Defeat 20 giant monsters.
Giant Destroyer
Defeat 30 giant monsters.
Beginning Crafter
Successfully craft an item.
Veteran Crafter
Successfully craft 300 items.
Professional Crafter
Successfully craft 800 items.
Master Crafter
Successfully craft 1500 items.
Failed Chef
Fail at cooking one time.
Insomniac
Stay awake until you collapse at 5AM.
Most Popular
Earn the goodwill of many residents on Fenith Island.
Beginning Angler
Successfully land a fish.
Veteran Angler
Successfully land 300 fish.
Professional Angler
Successfully land 1000 fish.
Master Angler
Successfully land 2000 fish.
Overmedicated
Consume 100 recovery drinks.
Germ Factory
Catch a cold 100 times.
Jumping for Joy
Perform a double-jump 500 times.
Gladiator
Win a battle in the colloseum.
Trophies 101
Listen to Maerwen's explanation about trophies.
Hidden Trophies:
???
Hidden Trophy
???
Hidden Trophy
???
Hidden Trophy
???
Hidden Trophy
???
Hidden Trophy
???
Hidden Trophy
???
Hidden Trophy