Superstars V8: Next Challenge Trophies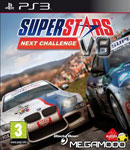 Total Trophies: 36Superstars V8 Next Challenge will have countless improvements to discover, from new gameplay modes & online experiences to all new realistic 3D environments. The 2010 edition is enriched with new licensed cars from top tier manufacturers, new tracks and some of the world's best known and challenging circuits.

Trophies:
Superstars Hero
Unlock all the Trophies.
Legendary Champion
Win a Single Player Championship at Legend Difficulty.
Collector
Unlock all the objects in the Pit.
Always in front
Achieve a Pole Position in every race of a championship.
We don't need no education
Complete all Licenses with an 'S' evaluation.
Superhuman Collector
Unlock every unlockable item in the game.
Album of the year
Unlock all the pictures in the pit.
New Champion
Win your first Single Player Championship.
Algarve Aquapark
Win a Single Player wet race at Portimão on at least Hard Difficulty.
Bad Setting, good driver
Win a race on Monza setting your wings at maximum inclination.
School's out for summer
Complete Driving Academy.
Enduring confrontation
Win an Online Championship.
Graduation Day
Complete Racing Academy.
Anticlockwise
Win at Adria, Kyalami and Imola in the same Single Player Championship.
Moonwalking
Win a race crossing the line in Reverse.
Clockwise
Win at Portimão, Vallelunga, Mugello, Monza and Magione in the same Single Player Championship.
Been There, Done That…
Complete a race on every track of the game.
Not a rookie anymore
Complete a Single Player Championship.
Almost There
Win a Single Player Race on Hard Difficulty.
I did it for Race 2
Arrive 8th in Race 1.
King for a Day
Gain 43 points in a single Championship weekend.
A step forward
Win a Single Player Race on Medium Difficulty.
Introduce yourself
Win the first race in a Single Player Championship.
New Furniture
Unlock a prize in the Pit.
Four Circles
Win a Race with the Audi RS4.
Direct confrontation
Win an Online Quick Race.
Roaring victory
Win a Race with the Jaguar.
Delayed confrontation
Win an Online Time Attack race.
First Lesson
Take your first Licences exam.
Back to school
Complete Driving School.
The strongest rookie ever
Win a wet Race at Imola with Martini.
When I kissed the teacher
Complete the Racing School.
Silver Arrow
Win a Race with the Mercedes C63 AMG.
Lazy Mechanic
Complete at least a lap using every in-game preset.
Bonus Point
Achieve the fastest lap in a Single Player Championship race.
Welcome
Finish a Race.