Superstars V8 Racing Trophies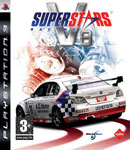 Total Trophies: 35Powered by some of the most important car manufacturers in the whole world, such as BMW, Audi and Jaguar, and sporting top class production cars, Superstars V8 Racing offers the utmost realistic impression of the Italian Championship

Trophies:
The first stage of the podium
Win your first race.
The roar of the Jaguar
Win a race using one of the Jaguar of the Ferlito Motors team.
Girl Power
Win a race using Maria De Villota.
Race of Good Hope
Win a race on Kyalami with Francesco Ascani.
It's raining cats and…jaguars?
Win a race on Magione with wet weather using the Ferlito Motors Jaguar.
The sunny side of the street
Win a race on Valencia on sunny weather using the SSantucci Motorsport Mustard.
The rainy side of the street
Win a race with wet weather in any game mode.
The driver more than the car
Win at least a race with every team in the game.
I like simulation
Win a race in simulation mode at Legend difficulty level.
Komodo Dragon
Win a race in Varano at Hard or Legend difficulty level.
Speed Temple
Win a race on Monza at Legend difficulty level.
All roads lead to Rome
Win a race on Vallelunga Track.
Gear Power
Win a race using manual transmission.
Unrivaled
Win a race with a 15 seconds gap or more from the second place.
Smells like burnt rubber
Win a race performing 10 seconds of powerskid.
The first of a long series
Complete one of the challenges of the Superstars® Licenses Mode.
Mister Tester
Complete 15 laps in Training Mode with the same driver.
I'm in love with my car
Drive for at least 200 km in Single Player mode with the same team.
A present for you!
Unlock a Prize.
Superstars® veteran
Win at least 10 races.
Mister Pole Position
Achieve at least 8 Pole Positions in the same championship.
A new danger on the track
Complete all the Special Trials challenges.
The Final Countdown
Complete all the Countdown challenges.
Owned!
Complete all the Duels challenges.
Not a comedy
Complete all the Race Scenarios challenges.
The king of hourglass
Beat at least 8 different records in Training.
International Series
Win the race of Vallelunga, Mugello, Monza and Valencia during the same championship.
Ave Cesari
Win 5 races on Vallelunga with Mauro Cesari.
No more space on the shelf
Unlock all the championship and track cups.
Congratulations from the Designer
Complete all the challenges at Platinum level.
Audi famam illius
Win a Championship with Gianni Morbidelli and his Audi car.
BMWinner
Win a championship with CAAL Racing team at least at Medium difficulty.
The best around
Win a championship at Legend difficulty level.
You are a Platinum Superstar!
Collect all Trophies.
Secret Trophy
Secret Trophy