Supremacy MMA Trophies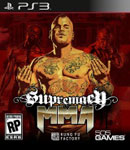 Total Trophies: 25Supremacy MMA brings the brutality of unsanctioned and unlicensed MMA fighting to the bigtime, favoring fast-and-furious gameplay and underground aesthetics over official branding and television-style presentation. The game aims to raise the bar in the MMA space by bringing an unprecedented level of fast, fluid combat, intuitive controls and true-to-the-sport brutality.

Trophies:
Getting the Hang of This
Attain Level 5 with any fighter.
Diversity
Attain Level 5 with all fighters.
Apply Yourself
Complete 10 challenges.
Keep'em Coming
Complete 20 challenges.
In the Zone
Complete 30 challenges
Relentless
Complete 40 challenges.
Rookie
Win 1 ranked match.
Rematch!
Win 1 Revenge match.
I Let You Win
Win 1 Final Fight match.
Multitalented
Attain Level 10 with all fighters.
Adrenaline Rush
Complete 50 challenges
Unstoppable
Complete 60 challenges
Rampage
Complete 70 challenges.
Domination
Complete 80 challenges.
Contender
Win 5 ranked matches.
Run It Back
Win 5 Revenge matches.
Last Laugh
Win 5 Final Fight matches.
Every Fighter has a Story
Complete all fighter stories.
Master
Attain Level 15 with any fighter.
Blood. Sweat. Fear.
Complete 90 challenges.
Legend
Complete 100 challenges.
Future Champ
Win 10 ranked matches.
Double or Nothing
Win 10 Revenge matches.
Sandbagger
Win 10 Final Fight matches.
Supremacy
Obtain all Trophies.