Test Drive Unlimited 2 Trophies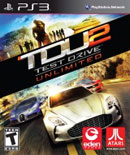 Total Trophies: 58Test Drive Unlimited 2 aims to transform the driving genre, adding the persistency, progression and customization of the latest multiplayer games to the racing experience. Test Drive Unlimited 2 blends single player and multiplayer experiences seamlessly, creating a dynamic world of evolving content and challenges.

Trophies:
Aloha!
Make it to Hawaii
Learning
Obtain The C4 license
Racing School Master
Obtain all licenses
The Beginner
Win a championship
King of Ibiza
Win Ibiza Cup, area 1
Multi-Challenger
Win 5 challenges in each multiplayer mode (Race, Speed, Speedtrap)
Instant challenge, instant cash!
Earn $10,000 in instant challenges
Cockpit Addict
Drive 500 km (311 miles) using the cockpit view (any game mode)
Fast and Luxurious
Drive at 400 km/h (249 mph) for 5 sec. (any game mode)
Say 'Cheese!'
Get clocked by the radar 100 times (Speedtrap game mode)
Tuning Addict
Tune a car to the max level
My Beautiful Caravan
Own 1 house (caravan)
Fashion Victim
Change your clothes or hairstyle 40 times
Mummy
Complete 20 multiplayer challenges with bandages
Small Collection
Own 3 different cars
One of each
Own a car from each category (A7-A6-A5-A4-A3-A2-A1, C4-C3, B4-B3)
Car-tist
Decorate 5 different cars
Big Spender
Spend 1 million dollars
Get rich or try driving
Possess 1 million dollars
Reckless Driver
Drive around and hit 100 AI controlled cars and destructible objects
Easy Money
Earn $100,000 with F.R.I.M.
Hard earned money
Bank the maximum level of F.R.I.M. (10)
Kangaroo
Make a 100 m (109 yd) jump (any game mode)
Cruising
Drive 200 km (124 miles)
Road Eater
Drive 1000 km (621 miles)
Helping hand
Succeed in 10 missions
Ibiza Photographer
Find 5 viewpoints on Ibiza (photographer)
Hey! What's this car?!
Own 1 bonus car (treasure hunt)
Me against all of you
Play 40 challenges in the Community Racing Center
Social Butterfly
Join and invite friends 100 times (any game mode)
Better than a GPS
Invite 10 players to drive with you in your car.
Co-op Challenger
Drive 150 km (93 miles) in 'Keep Your Distance' and 'Follow the Leader' modes
Keep your distance
Drive for 15 sec. above 100 km/h (62 mph) with 8 players in 'Keep Your Distance' mode
Exclusive Car
Drive a Club car
My Club and Me
Drive 150 km (93 miles) in intra-Club challenges
Marshall
Arrest 30 outlaws in Online Chase Mode
Risk Taker
Give up a Three of a Kind while playing Video Poker and win the next hand
Island Caretaker
Wake up the Island caretaker
Drinks
Have 10 cocktails at once at a poker table.
Western
Play the 'dual' emote at the same time as your rival at a poker table for two
Wanted
Get the right look to get the reward
1-in-38 Chance
Win a straight-up bet at Roulette
Ready to play TDU2?
Get the luxury car displayed in the entrance hall
Subprime crisis?
Own one house from each level
The Explorer
Drive 5000 km (3107 miles)
Events Accomplished
Achieve all missions
Reporter
Find all viewpoints (photographer)
Tyrannosaurus wrecks
Own all 6 bonus cars (treasure hunt)
Exclusive CarS
Drive all Club cars
Club Basher
Win 30 Club vs Club challenges
Fugitive Wanted
Outrun the police 30 times in Online Chase Mode
Casino Fashion Victim
Buy all the clothes available in the Casino Clothes Shop
Socializing
Unlock all cocktails and emotes
V.I.P.
Become a VIP of the Casino by reaching level 5
Level 60
Reach level 60
Coronation
Win all championships & cups
God of Cars
Own all purchasable cars
100% Cleared
This is the platinum trophy and is unlocked automatically when all the trophies have been unlocked