The King of Fighters XIII Trophies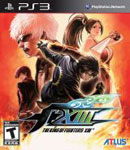 Total Trophies: 47With the triumphant return of fan favorite characters like Mai, K', and Vice, extensive refinement of the core fighting engine based on community feedback, and vastly improved network functionality, The King of Fighters XIII represents the HD entry in the series that fans have been waiting for.

Trophies:
THE KING OF FIGHTERS
Unlock all trophies.
Let's see what you've got…
Clear STORY.
Do you understand now?
Complete STORY.
Show me what humans are made of…
Perform 10 Target Actions (Arcade)
What's wrong?
Perform 300 Target Actions (Arcade)
Strength!
Hit 100 times using Special Moves (Arcade, Versus)
Spinning!
Hit 100 times using EX Special Moves (Arcade, Versus)
Yahoooo!
Hit 100 times using Super Special Moves (Arcade, Versus)
Yeeeeaaah!
Hit 100 times using EX Super Special Moves (Arcade, Versus)
Hey!
Hit 100 times using NEO MAX Super Special Moves (Arcade, Versus)
Yay! Perfect!
Perform 10 Perfect Victories (Arcade, Versus)
Hmph… this is only natural.
Get 10 straight wins (Arcade, Versus)
Play time is over!
Perform 50 Super Special Moves Finishes (Arcade, Versus)
And the final blow…!
Get 50 NEO MAX Super Special Moves Finishes (Arcade, Versus)
Come back later!
Perform 50 Drive Cancels (Arcade, Versus)
Mission Complete!
Perform 50 Super Cancels (Arcade, Versus)
Piece of cake!
Perform 50 HD Cancels (Arcade, Versus)
Heheh. Not bad.
Perform 50 MAX Cancels (Arcade, Versus)
Time will soon turn to ashes…
Get an S at the victory screen
After all, you're just trash.
Get an SS at the victory screen
You're not so bad!
Complete the tutorial
It's about time to start!
Register an icon, team and message in Customize
Here I come, buddy!
Create 10 characters in Customize
Hey, hey, hey!
Be challenged by "Billy" and win in ARCADE
Great
Be challenged by "Saiki" and win in ARCADE
You can't win against me!
Be challenged by "Ash" and win in ARCADE
How was it?
Clear ARCADE MODE without continuing
This is… my victory!
Clear ARCADE MODE on VERY HARD
Looks like I was just on time.
Clear Time Attack mode for the first time
You can't compare to me.
Clear Time Attack mode with 30 characters
I will execute my mission!
Defeat 3 characters in Survival mode
I'm enough for this job!
Defeat 35 characters in Survival mode
That should do it!
Complete all trials for 1 character in Trial mode
Yes! I'm the best!
Clear 200 trials in Trial mode
Let's play warrior!
Create 10 rooms
Go easy on me!
Play your first [ranked match / player match]
Good!
Play 50 [ranked matches / player matches]
Hehe… hot, wasn't it?
Play 100 [ranked matches / player matches]
I shall not waver!
Play 300 [ranked matches / player matches]
Yeah!
Win your first [ranked match / player match]
This was just a greeting!
Win 5 [ranked matches / player matches]
Doesn't it feel good?
Win 25 [ranked matches / player matches]
Isn't this fun, eh?
Win 50 [ranked matches / player matches]
Excellent!
Win 100 [ranked matches / player matches]
Okay!
Get 2 consecutive wins in a ranked match
Number 1!
Get 5 consecutive wins in a ranked match
Yeah! I did it!
Get 10 consecutive wins in a ranked match