The Saboteur Trophies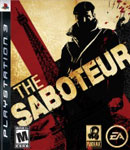 Total Trophies: 46Experience the ultimate open-world action/adventure as The Saboteur. Fight, climb, and race your way through a uniquely stylized version of Nazi-occupied France, and hunt down your sworn enemies who have taken everything from you. Enter the seedy underground world of a saboteur living in 1940s Paris, where the women are sexy, the missions are epic, and the revenge is satisfying.

Trophies:
Tourist
You collected all monument postcards.
Hell on Wheels
You achieved victory in all freeplay races.
Saint Honoré
You spent 75,000 contraband.
Demolition Derby
You destroyed 50 vehicles.
Top o' the World
You climbed to the top of the Eiffel Tower.
Silent Death
You stealth killed 50 or more Nazis.
Northern Command
You inspired the people of Paris Area 1.
Western Command
You inspired the people of Paris Area 2.
Southern Command
You inspired the people of Paris Area 3.
Chain Smoker
You smoked way too much.
Casanova
You kissed 50 women.
Silver Streak
You obtained your first silver perk.
Gold Medalist
You obtained your first gold perk.
First Blood
You completed your first ambient freeplay event.
Commanndo
You completed each type of ambient freeplay.
Wrecking Crew
You completed 333 ambient freeplay in Paris Area 1.
Unnatural Disaster
You completed 212 ambient freeplay in Paris Area 2.
Walking WMD
You completed 239 ambient freeplay in Paris Area 3.
Fatherland Fighter
You completed 53 ambient freeplay in Saarbrucken.
Coast Guard
You completed 76 ambient freeplay in Le Havre.
Guerilla Warfare
You completed 425 ambient freeplay in the countryside.
Pigeon Parfait
You played 'Bird Blast.'
No Witnesses
You completed a mission without raising alarm.
Master of Disguise
You made it through a story mission with your disguise intact.
Trick or Treat
You stealth killed a Nazi General while disguised.
High Diver
You jumped from the Eiffel Tower and survived.
Weapon Master
You purchased all weapons available in the shops.
Solid Gold
You completed all gold level perks.
Not On My Watch
You have saved the French people from a cruel fate.
Liberator of France
You inspired the people of France.
Complete all other trophies
Complete all other trophies
???
Hidden Trophy
???
Hidden Trophy
???
Hidden Trophy
???
Hidden Trophy
???
Hidden Trophy
???
Hidden Trophy
???
Hidden Trophy
???
Hidden Trophy
???
Hidden Trophy
???
Hidden Trophy
???
Hidden Trophy
???
Hidden Trophy
???
Hidden Trophy
???
Hidden Trophy
???
Hidden Trophy