The Shoot Trophies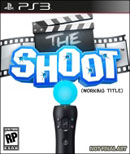 Total Trophies: 45Become the ultimate action hero, using the PlayStation Move motion controller to shoot, punch and dodge your way through five exciting Hollywood movie sets in The Shoot. This is a shooting game designed for use with the PlayStation Motion Controller.

Trophies:
Best Actor – Horror
Achieve Gold in Haunted House Party
Best Actor – Film Noir
Achieve Gold in The Mob
Best Actor – Fantasy
Achieve Gold in Deep Perils
Best Actor – Science Fiction
Achieve Gold in Robotomus Crime
Best Actor – Western
Achieve Gold in Outlawed
Man With a Name
Complete Outlawed
Acting Scary
Complete Haunted House Party
The Bends
Complete Deep Perils
Masked Gangstar
Complete The Mob
Robotic Acting
Complete Robotomus Crime
On the way…
Achieve 1% of Stars
On the up
Achieve 25% of Stars
Home Run
Score 5 home runs in a single round of Deep Strike
What a Sharpshooter!
Shoot 6 bullseyes with 6 bullets in Ricochet Hotshot
99 Green Balloons
Shoot down 99 war-balloons in City Siege
Jive Turkey
Get 3 strikes in a row in Graveyard Alley
2 Skeletons, 1 Ball
Destroy 2 skeletons with 1 ball in Graveyard Alley
Getting a Foot in the Door
Complete Studio 101
Buddy Movie
Complete 4 scenes of any movie in 2 player Score Attack
Dead Eye
Reach a multiplier of 99
iBot
Shoot every spy-bot and eye-bot in scene 2 of Robotomus Crime
Stand Your Ground
Shoot all rockets fired at you on the subway roof in scene 2 of Robotomus Crime
Worst. Date. Ever.
In a single play through, shoot the Prom Queen in each scene of Haunted House Party
Everyone's Got a Price
Shoot 5 bags of cash in scene 2 of Outlawed
Just Rewards
Shoot all targets during the credits
Gloves of Steel
Punch 20 targets
Unmasked
Achieve 10 headshots in The Mob
Blow-out!
Shoot 5 car tyres in The Mob
Treasure Hunter
Shoot 30 treasure chests in Deep Perils
Jelly Shot
Shoot 5 Jellyfish in Deep Perils
In the Big League
Achieve 50% of stars
Spinball Wizard
Reach round 30 in Robotsphere
City Saviour
Score over 50,000 points in City Siege
Off the Cutting Room Floor
Find and complete all deleted scenes in every movie
Experimental Shooter!
Find all Show Stoppers
The Natural
Achieve Gold in all Movies
Hill King
Achieve 100% of Stars
Screen Sensation
Become a Screen Legend
Platinum With a Bullet!
All Trophies Unlocked!
???
Hidden Trophy
???
Hidden Trophy
???
Hidden Trophy
???
Hidden Trophy
???
Hidden Trophy
???
Hidden Trophy