Trinity Universe Trophies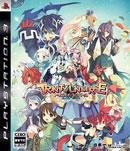 Total Trophies: 37The second in a series of cross-over game featuring characters from a variety of RPG franchises, this game features popular characters from titles made famous by Idea Factory, Gust, and Nippon Ichi. Trinity Universe is a sci-fi fantasy RPG that's set in space. You take control of either the "dog demon" Kanata or the "war goddess" Rizerial and work through two different stories told respectively from the sides of the demons and the goddesses.

Trophies:
Platinum Trophy
To acquire all the trophies.
Hero
To defeat 100 monsters.
Super Hero
To defeat 300 monsters.
Ultra Hero
To defeat 800 monsters.
Victory
To win the battle 30 times.
Super Victory
To win the battle 100 times.
Ultra Victory
To win the battle 300 times.
Power Soldier
The TOTAL damage exceeds 10000.
Power King
The TOTAL damage exceeds 50000.
Break Power
The TOTAL damage exceeds 100000.
Speed Star
The numbers of HIT exceeds 300.
Shooting Star
The numbers of HIT exceeds 500.
Stardust
The numbers of HIT exceeds 700.
Creator
To discover 10 images.
Treasure Hunter
To discover 30 concealed treasures.
Space Cleaner
The dungeon is drifted 10 times.
Bourgeois
To spend over 100000G in the shop.
Managraphic Love
To spend over 1000000G in the atelier.
Gorgeous Road
To have over 100000000G.
Meteorlight Star
To make Meteorlights 100 times.
Material Star
To compose items 100 times.
Monster Star
To create monsters 100 times.
Space Traveler
You drift 50 times.
Game Mania
The evaluation point exceeds one million.
Shopping Mania
To spend over 10000000G in the shop.
Dreamer
To discover 30 images.
Treasure Mania
To discover 60 concealed treasures.
Hit Mania
The numbers of HIT exceeds 1000.
Damage Hazard
The TOTAL damage exceeds 300000.
Battle Mania
To win the battle 500 times.
Space Clear
The dungeon is drifted 50 times.
Legend
To defeat 1300 monsters.
Space Hero
To defeat 2000 monsters.
True End
To clear the true scenario.
Ultimate Player
The dungeon is drifted 100 times.
Shop Owner
To spend over 1000000000G in the shop.
Character Love
The level of all the characters exceeds 100.