X-Men: Destiny Trophies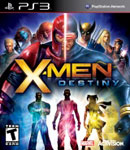 Total Trophies: 50In X-Men Destiny, players control the fate of one of three brand-new mutant characters forced to choose between saving humanity or ensuring its destruction. The branching storyline, penned by acclaimed Marvel writer Mike Carey, features a deep element of choice, allowing players to customize the path, powers and development of their character and to decide their role in the mutant cause alongside, or against, some of Marvel's greatest X-Men franchise characters.

Trophies:
Destiny Begins
Select a Power.
Think About It…
Make first power destiny choice.
Choose Wisely
Make second power destiny choice.
The Choice Is Made
Make third power destiny choice.
Splicer
Equip your first X-Gene.
At Least It's Aerodynamic…
Equip your first suit.
I've Got the Power
Fully level up a power.
Four of a Kind
Equip a complete X-Gene set and suit.
Beginner's Luck
Complete your first Great combo.
This can't be happening!
Complete your first Insane combo.
How Strong Could It Be?
Trigger X-Mode.
Broken Glass, Everywhere…
Break 30 Combat Text Pop Ups.
Fight Terror with Terror
Defeat 10 enemies with one Ultra power.
Side-tracked
Complete your first challenge mission.
Taking Every Opportunity
Complete 10 unique challenge missions.
Garbage Collection
Destroy your first piece of propaganda.
Profiler
Collect your first dossier.
Purify the Purifiers
Defeat 2000 Purifiers.
Mechageddon
Defeat 20 Purifier Stalker Mechs.
Reinforced
Defeat 20 Prime Enforcers.
U Mad, Bro?
Defeat 30 U-Men in the Secret Lab.
The Goon Squad
Defeat 500 MRD Troops.
Got My Eye on You
Join Cyclops and the X-Men.
Magneto Is Right
Join Magneto and the Brotherhood.
Fully Evolved
Fully level up all powers.
Completionist
Complete all 15 unique challenge missions.
Cleaned up the City
Destroy 25 pieces of propaganda.
Archivist
Collect 15 dossiers.
Beta Level Mutant
Finish the game on New Mutant difficulty.
Alpha Level Mutant
Finish the game on X-Man difficulty.
Omega Level Mutant
Finish the game on X-treme difficulty.
Homo Superior
Collect all other trophies.
Hidden Trophies:
???
Hidden Trophy
???
Hidden Trophy
???
Hidden Trophy
???
Hidden Trophy
???
Hidden Trophy
???
Hidden Trophy
???
Hidden Trophy
???
Hidden Trophy
???
Hidden Trophy
???
Hidden Trophy
???
Hidden Trophy
???
Hidden Trophy
???
Hidden Trophy
???
Hidden Trophy
???
Hidden Trophy
???
Hidden Trophy
???
Hidden Trophy
???
Hidden Trophy