Castlevania: Harmony of Despair Trophies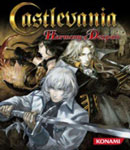 Total Trophies: 12Featuring the classic fast paced 2D, side scrolling action the series is known for, fan favorite vampire hunters from across the series will join forces to return Dracula, the Lord of Darkness, to his eternal slumber.

Trophies:
Lifeguard
Bring a comrade back from the dead.
Slick Kick
Defeat a boss using sliding.
Bone Cold Justice
Defeat an enemy by hitting back a Skeleton's bone.
Grim Synergy
Defeat a boss using a Dual Crush.
Poetic Justice
Defeat an ally who has been seduced by the enemy.
Vampire Hunter
Destroy the lord of Castlevania.
Grasshopper
Jump kick 30 times in a row without touching the ground.
Boned
Defeat a boss with 5 players in skeleton form.
Pack Rat
Collect a large number of items.
Wicked Deep Pockets
Amass 1,000,000 gold.
Slaughtervania
Rack up 10,000 enemy kills.
Hunter Legend
Complete Hard Mode.