Mercury Hg Trophies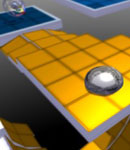 Total Trophies: 21Mercury Hg expands on the addictive qualities of its predecessors, crafting 60 all-new deviously constructed levels filled with hazards and obstacles while adding improvements and polish to almost every aspect of the game.

Trophies:
Discoverium
Complete all the levels in Discovery Mode.
Challengium
Complete all of the Challenges.
Bolevium
Complete all of the Bonus Levels.
Targetenium
Complete all 4 targets in any Discovery Mode level.
Bonusium
Discover all 20 of the Bonus Levels.
Spookium
Download and play against an online ghost replay.
Musicium
Play one of your own music tracks while playing the game.
Bielementium
Discover the second group of elements.
Trielementium
Discover the third group of elements.
Quadelementium
Discover the fourth group of elements.
Pentelementium
Discover the fifth group of elements.
Sixaxium
Complete a level using the SIXAXIS™ motion sensor function.
Unlockium
Discover all 10 of the Challenges.
Revealium
Finish all of the Tutorial Levels.
Awesomium
Be awarded all 240 original Atoms in Discovery Mode from groups 1 to 5.