Crescent Pale Mist Trophies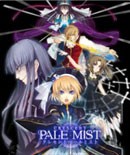 Total Trophies: 11In Crescent Pale Mist, you are the sorceress Yunou, the only magician capable of wielding powerful and deadly magic known as Pale Mist in Gasyukal, a beautiful and explosive dimension between worlds, rife with monstrosities. Toxic Pale Mist is leaking from Gasyukal into the outside world, and Yunou is determined to stop those responsible, her former comrades.

Trophies:
Vizet Boot Camp
Finish Tutorial.
Ancient Scholar
Collect all Archive artifacts.
Bone Collector
Collect all items.
Artifact Collector
Collect all Artifacts.
Boss Only Mode
Obtain the Mysterious Button.
Magic Knight
Defeat NORMAL, Magic Knight mode.
Sacred Knight
Defeat HARD, Sacred Knight mode.
Terror Knight
Defeat FEAR, Terror Knight mode.
Music Room
Obtain the Music Room Key.
Brave Knight
Defeat Boss Only mode.
Pale Mist Knight
Defeat PLANERIEL, Knight of Nightmare mode.