Days of Thunder: NASCAR Edition Trophies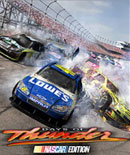 Total Trophies: 16In Days of Thunder: NASCAR Edition, up to 12 people can race to the finish online, log the fastest times on the leader boards, or push themselves to the limit in single-player. There are four different modes – Quick Race, Time Trial, Career, with circuits of varying difficulty, and Derby Mode, where players are encouraged to deal as much damage as they can.

Trophies:
FTW!
Win your first career race.
Welcome to the bigtime!
Start new career as a rookie.
You are now a Pro!
Qualify for The Sprint.
Droppin' The Hammer
Use Hammer 100 times in singleplayer.
Eyes on The Prize
Use Focus 100 time in singleplayer.
Millionaire
Make your first million.
Sellout
Unlock your first sponsor.
The Chase is On
Qualify for The Chase.
Full Throttle
Max out a car's performance points.
World Champion
Complete a full career.
Everyone wants a piece of you
Unlock all sponsors.
Demolition
Earn over 9000 points in Derby mode.
Paint Bucket
Unlock all paint styles.
Pole Position
Qualify first for a race.
Online Racer
Play your first multiplayer match.
'This is it, this is what it's all about.'
Gain all Trophies.