de Blob 2: The Underground Trophies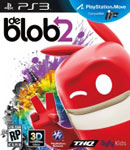 Total Trophies: 26In de Blob 2, Comrade Black is back and so is his war on color. Disguised as Papa Blanc, Comrade Black rigs the city's election in order to win and take control of Prisma City with his brainwashing new cult. That is, until de Blob bounces back in full color-spreading force with his revolution to restore color and life back to the city and its residents.

Trophies:
INKT informed
Pinky's Guide to inkies completed
Pinky to the rescue
Blob and Pinky played a level together
Keepin' it real
All levels completed without upgrades
Paradise Island liberated
'Paradise Island' level completed
Maximum Blob
Blob and Pinky completely upgraded
Every picture
Every Gallery pickup collected
Totally inspired
Every inspiration pickup collected or earned
INKT smasher
All Gold Clean-Up awards completed
The People's Hero
All Gold Liberation awards completed
Nature Lover
All Gold Environment awards completed
Nothing but the best
All story levels completed to 'S' class
Medal of Color
All story levels completed in normal mode
Platinum Trophy
All Trophies obtained!
Hidden Trophies:
???
Hidden Trophy
???
Hidden Trophy
???
Hidden Trophy
???
Hidden Trophy
???
Hidden Trophy
???
Hidden Trophy
???
Hidden Trophy
???
Hidden Trophy
???
Hidden Trophy
???
Hidden Trophy
???
Hidden Trophy
???
Hidden Trophy