Dead Block Trophies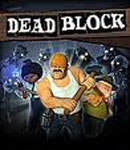 Total Trophies: 12Dead Block focuses on innovative defensive gameplay in which the few remaining survivors, Jack Foster (a construction worker), Foxy Jones (a traffic warden), and Mike Bacon (a perpetually hungry boy scout) have formed an unlikely alliance to protect themselves from the invading undead.

Trophies:
Jack the Builder
Put blockades on every door and window in one level.
Nightshift
Play five minutes in darkness.
Bomber
Kill twenty zombies with a single bomb trap.
Work force
Employ 20 construction zombies at the same time.
Dead can Dance
Activate the Jukebox and make a zombie dance.
Cactustime
While playing Mike, search four cacti in a row.
Quintupel Super Awesome
Build five blockades with super awesome finish in a row.
Multikill
While playing Foxy, kill three zombies with one melee attack.
Poo Dance
Make ten infected zombies dance at the same time.
All Traps
Build every trap and a wood blockade in one level.
Game Complete
Complete all singleplayer levels.
Medal Seeker
Win all gold medals in all singleplayer levels.