Fast Draw Showdown Trophies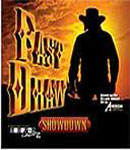 Total Trophies: 11Do you think you're the fastest gunslinger in the West? Well lets see how you fair in Fast Draw Showdown. Fight against the roughest thugs, cowboys and outlaws in this Western shootout!

Trophies:
BOOM! Hat Shot!
Shoot off Junction Jack's lucky hat.
Pistols at dawn
Finish either 2 player mode
Six shooter
Beat your friend in a 2 player game 6-0
I shot first…
Defeat any shooter.
Fastest gun in the west
Beat Wes Flowers
Consistently quick
Get a fastest time of .50 or less for 20 shooters
There's a new Sheriff in town
Beat the tournament on Sheriff difficulty
Quick Draw
Get a draw time of .30 or less
Two for one
Defeat all the shooters who come in pairs
Fully Decorated
Earn all of the Badges
Hidden Trophies:
Premature
Foul Out