Dragon's Lair Trophies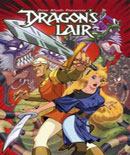 Total Trophies: 8Dragon's Lair follows Dirk the Daring as he travels through the dragon Singe's castle in order to save his love, Princess Daphne. It's standard damsel-in-distress fare, but Dragon's Lair stands as one of the earliest examples of a quick-time event game.

Trophies:
Save Me!
Beat the game on any mode.
Valiant Adventurer
Beat the game on hard, arcade mode.
Master Knight
Beat the game on easy, no move guide, 5 lives mode.
Singe Attack
Beat the game in 3 lives, any mode.
Flawless
Beat the game without dying, any mode except infinite lives.
Dragon Slayer
Beat the game on hard, no move guide, 3 lives mode.
Lair King
Get the highest possible score (427,469).
Hidden Trophies:
???
Hidden Trophy