From Dust Trophies
September 8th, 2011
Go to comments
Print List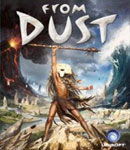 Total Trophies: 12Created by famed French videogame designer Eric Chahi, this mysterious game tells of a world in terrible disorder, one that only you can set right again. Commanding the world around you as a child in a sandbox, players will help their people resist, expand and migrate so they can accomplish their quest to find a safe place in a land ravaged by the violent and catastrophic ways of Nature.
Trophies:
ExhalingCreate the Breath of the elements.
HellComplete the Wildfire territory.
The end of our journeyComplete the Movements territory.
Safe journeyFinish the story mode without losing more than 5 villages.
KrakatoaAbsorb a massive amount of lava during the game.
PowermongerUse the powers of the Breath 100 times.
AmazonUproot and replant 100 trees during the game.
SanctuaryCreate a sanctuary for the tribe.
Memories foundComplete the Memory of the tribe.
Green thumbCover each map with vegetation.
GauntletComplete every challenge.
Last BreathComplete every challenge, every territory, the Memory and every secondary objective.
Rate this game's trophies