JAM Live Music Arcade Trophies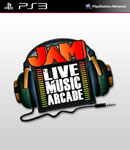 Total Trophies: 12Jam Live Music Arcade offers a new approach to the music genre with a real-time live music sandbox that allows the player to immediately build and customize their very own tunes. Starting with any one of the 30+ licensed songs featured in the game (including hits from Modest Mouse, Fallout Boy, Fatboy Slim, Rise Against, Atmosphere and more), you get to jam with and remix all aspects of the songs.

Trophies:
Jam Party Rookie
Record a performance.
Stop Watch
Trigger a track on-beat during a performance.
Jam Jockey
Play a recorded jam in Arcade Mode.
Junior Producer
Complete 5 jams in Arcade Mode.
Play it Again Sam
Trigger the same track on-beat three times in a single jam.
Loop Master
Trigger 20 consecutive loop tracks on-beat.
Set Master
Trigger 4 consecutive bankset changes on-beat.
Soloist
Trigger 20 consecutive freeform tracks on-beat.
Going Bronze
Earn 20 bronze medals in Jam Mode.
Going Silver
Earn 20 silver medals in Jam Mode.
Going Gold
Earn 20 gold medals in Jam Mode.
Arcade Master
Complete all jams in Arcade Mode.