Rock of Ages Trophies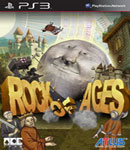 Total Trophies: 12Two castles stand opposed, bridged by an uneven, narrow pathway. One is yours, and you're quite fond of it. See how the parapets catch the sunlight ever so stylishly? The other is your enemy's; they're a jerk, and their crappy crenellations are driving down your property values. Also, their castle sucks, justification enough to try crush it using an enormous rolling stone. Unfortunately, they'll have a chance to plan and build up some security, doing everything they can to derail your razing rock.

Trophies:
Top Shot
In SkeeBoulder, land your Boulder in the maximum multiplier.
Eagle Eye
Score a direct hit on an enemy boulder with the Castlepult.
Rock the Boat
Destroy a flying ship.
Berserker
Hit the castle gate with the fireball powerup.
Prosperous
Earn more than 7000 gold in one match.
Escape from Hades
Complete the tutorial level and escape from the underworld.
Flawless Victory
Win a match with your gate unscathed.
Cocky
Win a match without destroying any of your adversary's units.
Keymaster
Find all the keys scattered throughout the levels.
Champion of Champions
Beat the game in Story mode.
Bling Bling
Get a gold medal on all maps in Time Trial mode.
Troublemaker
Win 10 online War games.