Wonder Boy in Monster Land Trophies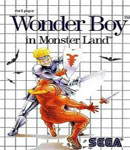 Total Trophies: 12After the defeat of the evil king, the kingdom of Wonder Land was a paradise … for a time. The peace was broken when a ferocious, fire-breathing dragon struck without warning and took over Wonder Land with a swarm of evil, monstrous henchmen, turning the once-peaceful land into the utterly chaotic Monster Land. Unable to fight, the people now look to Wonder Boy. Realizing that he is Wonder Land's last hope, Wonder Boy sets out on an incredible journey to rid the country of the monsters and defeat the "invincible" evil dragon.

Trophies:
Congratulations!
Clear the game without using any continues.
Question: Who defeated me?
Defeat the Sphinx.
You are a True Hero
Obtain all the Legendary Equipment.
Welcome to Monster Land
Read the "Welcome to Monster Land" sign.
Ghost Slayer
Defeat a resilient Ghost.
You are O.K.
Get a PERFECT for clearing a stage.
Spell Master
Use every type of magic.
Music Maker
Play the flute somewhere with a view.
You have become really sturdy!
Increase your LIFE to a max of 10 hearts.
Lost and Found
Obtain equipment from a defeated enemy.
Gold in the Clouds
Find all the gold hidden in the clouds of Round 7.
Treasure Hunter
Find 20 hidden items and/or gold.