Joe Danger Trophies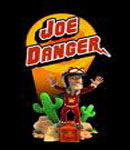 Total Trophies: 16You are Joe Danger, the world's most determined stuntman. You live to thrill the crowd and break World Records. Take on your friends or race against your rivals – the reckless Team Nasty.

Trophies:
COMBO KING!
Get 1 level combo star.
SPEED DEMON!
Get 1 time star.
DETECTIVE!
Find 3 hidden stars.
DANGEROUS!
Get a DANGER star.
MONEY GRABBER!
Get 5 coin dash stars.
STAY ON TARGET!
Get 5 target stars.
COLLECTOR!
Collect all mini stars on 8 levels.
BACK ON THE BIKE!
Complete the first tour.
SHARE THE FUN!
Send 1 level to a friend.
BEAT THEM AT THEIR OWN GAME!
Receive 1 level from a friend.
MEGA COMBO!
Get a x100 combo.
NINJA STARS!
Get 4 stars in one run.
ALL THE TIME IN THE WORLD!
Get all of the time stars.
TRICK MASTER!
Get all of the combo stars.
AROUND THE WORLD!
Finish all levels.
MASTER OF DISASTER!
Get all the stars in the game.