Death Track: Resurrection Trophies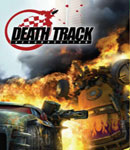 Total Trophies: 33Death Track: Resurrection is a racing/action title set in the not too distant future where traditional sports have been replaced and a new, violent entertainment rules. The attention of the world's population is drawn to the main event of the year, The Survival Race, the biggest and most brutal race on the calendar. This is a world tournament that takes place in the largest cities across the globe and attracts the most powerful vehicles and world-renowned drivers on the circuit.

Trophies:
First Blood
Kill your first enemy.
First Explosion
Demolish your first building.
Chicken
Make your first jump.
First Victory
Win your first race.
Mechanic
Buy your first upgrade.
Rearming
Buy your first weapon.
Test Drive
Buy your first car.
One of Five
Get in top 5 pilots in Scenario mode.
Champion of the Season
Finish Scenario mode.
Champion of Europe
Win European Championship.
Champion of Asia
Win Asian Championship.
Champion of America
Win American Championship.
Buddy
Play your first multiplayer game.
Rookie
Win your first multiplayer race.
Pro
Win 50 races in multiplayer.
Victor
Win 100 single player or multiplayer races.
Hard player
Win any championship final race on hard difficulty level using stock upgrades and first level weapons.
Sprinter
Reach 400 kph in any race.
Beekeeper
Finish Tokyo in Scenario mode without dying.
Stunt man
Get 75000 points with one jump.
Pilot
Get 200000 points with one nitro acceleration.
Maniac
Kill 500 enemies in single player or multiplayer races.
Cautious
Win 5 single player or multiplayer races (not in Race or Drag modes) avoiding enemy's mines and spikes.
Millionaire
Get 1000000 credits on account.
Apostle
Get 50 Archangel statuses.
Devil
Get 50 Megakiller statuses.
Challenge Accepted
Complete all basic challenges.
Challenger
Complete all challenges.
Executioner
Kill Chamorro in Vatican in Scenario mode.
Best of the best
Win all scenario races on hard difficulty level without dying.
Discoverer
Unlock all cars, upgrades and weapons.
Perfectionist
Complete 100% of the game.
Medallist
Unlock all trophies.