Mega Man 10 Trophies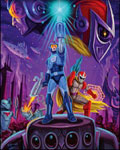 Total Trophies: 12Mega Man 10 once again brings back the nostalgic perfection of classic 2D Mega Man gameplay, embracing retro platform action and NES-inspired old-school graphics. Through-out Mega Man's adventure he'll take on the malfunctioning infected robots and classic-style bosses that can only found in Mega Man games.

Trophies:
WHOMP WILY!
Clear the game once.
BLUE BOMBER
Clear the game in under an hour.
SUPERHERO
Clear the game on HARD.
HARD ROCK
Make it to a boss room without getting damaged.
HEADBANGING
Defeat the 8 bosses without your helmet on.
DESTROYER
Defeat 1000 enemies.
WORLD WARRIOR
Defeat one of every type of enemy.
TRUSTY SIDEARM
Defeat the 8 bosses with just your default weapon.
NO COFFEE BREAK
Clear the game without using any energy, mystery, or weapon tanks.
TENACIOUS
Clear the game without continuing.
INVINCIBLE
Clear the game without dying.
MR.PERFECT
Clear the game without getting damaged.