Monster World IV Trophies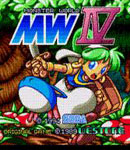 Total Trophies: 12One day, Asha, a young, green-haired girl, hears spirits calling out for help. Upon hearing the spirits, she leaves her village and sets forth on a grand adventure into Monster World. One her journey, she comes across a small blue monster named Pepe, and a magical Genie. Asha, alongside Pepe and the Genie, must fight through Monster Land to defeat evil and save the troubled Elemental Spirits.

Trophies:
You Did It!
Finish the game.
Jackpot
Collect 777 gold and see what happens.
Every Last Drop
Collect all the Life Drops.
SEGA Games Are #1!
Watch the SEGA logo sequence.
Monster World Welcomes You
Find the "Welcome to Monster World" message.
Refreshment
Wash your face in the spring at the Pyramids.
Be a Bit More Careful
Just started and you're already falling in pits!
Such Agility
Land 3 consecutive downthrusts without touching the ground.
Happy Earth Spirit
Rescue the Earth Spirit.
Thankful Moon Spirit
Rescue the Moon Spirit.
Delighted Sun Spirit
Rescue the Sun Spirit.
Cute Wind Spirit
Rescue the Wind Spirit.