Super Hang-On Trophies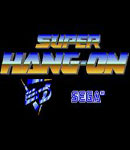 Total Trophies: 12Arcade-style motorcycle racing comes to your home in this awesome journey across four continents. What's at stake? Money, and lots of it. Each race you win will get you cash to upgrade your bike and improve your chances of advancing.

Trophies:
The Goal Is Just the Beginning
Finish a course.
In Control
Ride for 1 minute without hitting anything.
Always Full Throttle
Ride for 1 minute without braking.
Eat My Dust
Pass 100 rival riders.
I Meant To Do That…
Crash 10 times.
Melodies of the Wind
Listen to all 4 songs.
One With The Wind
Hit 324km/h using turbo.
Totally Radical!
Ride for 10 seconds on turbo.
So Close
Run out of time just before a checkpoint.
The Kiss of Fate
Cross the checkpoint with 1 second left.
Unforgettable Name
Fill a track ranking with a single name.
Thank You! Thank You!
Crash your way through a checkpoint.