Papo & Yo Trophies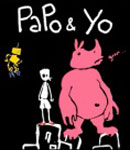 Total Trophies: 10As Quico, players will build their friendship with Monster by solving puzzles together and adventuring through a magical, surrealist world. Players will need to learn to use Monster's emotions, both good and bad, to their advantage if they want to complete their search for a cure and save their pal.

Trophies:
The Architect
Build and cross the houses bridge with only 3 houses.
Conclusion
Finish the game.
Don't Need No Hints
Play through the game without reading any hint boxes.
Mad Hatter
Collect all hats.
Hidden Trophies
White Frog Massacre
Splat 21 frogs at once in the main menu.
Lula Power
Double-jump with Lula to cross the first large gap.
Playing Tag
Run away from Lula for 20 seconds.
Sharp Splatter
Splat a frog right on the bullseye.
Calm After the Storm
Give Monster a rotten fruit.
Good as New
Revive Lula.