Puddle Trophies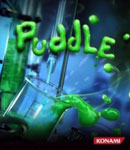 Total Trophies: 12Experience a brilliantly designed physics-based puzzle/platform game where you must guide a puddle of fluid to its target destination, not by moving the fluid, but by tilting the game world. The player must work with friction, momentum, and the unique properties of each type of fluid and environment to send as much of each puddle past fires, rifts, potential spills and more. But watch out: the fluid motion is realistic! Tilt too quickly and you will lose control.

Trophies:
Gold rush
Earn 48 gold medals.
Total reaction
Finish all levels.
Quack Quack
It's time for the crash test.
Every drop matters
Finish a level with exactly the right amount of liquid.
Make yourself scarce
Take the shortcut in the level Wastewater.
Green peace
Push the second bulb inside the sundews without letting the particles fall inside.
The price to pay
Finish a level after at least 10 nitroglycerine explosions.
Eating is cheating
Don't trigger any nausea during the Slightly acid level.
Souvenir
Keep your glass ball intact in the Tahiti level.
Roundabout
Finish the Nova level by only turning in one direction.
Waiter
Don't drop any liquid from the tank in the 2011 vintage level.
Say "truck"
Make sure your fire engine remains undamaged.