Resident Evil: Code Veronica X HD Trophies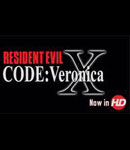 Total Trophies: 12After narrowly surviving the horrific onslaught in Raccoon City, Claire Redfield now seeks clues in search of her missing brother, Chris. To her horror, she discovers Umbrella Corporation's insidious activities are not isolated to the remote, mid-western city. No. Something much larger is going on here. Flesh-eating zombies and horrific beasts haunt Claire's every move. Just how far does this twisted conspiracy extend? What is Umbrella Corporation really up to? And who is behind this biotech terror? The answer lies within.

Trophies:
The Terror Begins
Escape from the graveyard of terror.
A Changed Father
Liberate the changed man.
Beyond the Shades
Encounter a former S.T.A.R.S. captain.
The Fallen Tyrant
Flatten an unstoppable enemy.
The Prisoner Who Lost Everything
Defeat the nameless man and end his suffering.
To The Frozen Land
Begin the search for your sister.
The Green Giant
Say farewell to your fallen comrade.
Duty and Humanity
Deliver some medicine to a man in need.
From The Young Lady
Receive encouragement from a young lady.
The Arrogant Queen
Put an end to the Queen's reign.
Battle Master
Get the Linear Launcher from Battle Game.
Weapon Crazy
Get the Rocket Launcher.