Scott Pilgrim vs. The World: The Game Trophies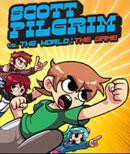 Total Trophies: 15This is the rock-n-roll action love story for the 8-BIT generation! Scott Pilgrim is a loveable loser whose life is turned upside down when a mind-blowing delivery girl named Ramona Flowers starts popping up everywhere, even in his dreams. Could she be his true love? But the path to Ms. Flowers isn't covered in rose petals. The League of Ramona's Evil Exes stands in the way.

Trophies:
The Power of Friendship
In a multiplayer game, reanimate another player at least 25 times.
Shopaholic
Buy all the items of a shop during the same visit.
New Challenger
Defeat Matthew Patel without losing a life.
Gourmet
Eat every food item.
Dirty Trick
Defeat an enemy by throwing an object at him while he's already down.
Armed and Dangerous
Defeat at least 200 enemies by using interactive objects.
"Chaudown"
Unlock and call all strikers.
Vigilante
Defeat 1000 enemies.
Twin Dragons
Defeat the Twins simultaneously.
One Man Army
Clear the game in single player on the "Supreme Master" difficulty setting.
Invulnerable
Play through a world and reach the boss without getting hit.
Get the Girl
Clear the game once with Scott
DLC Trophies
It's All In The Reflexes
Catch a flying object at least 25 times with Knives.
Speed Run
Clear the game in 90 minutes or less with Knives.
Ninja Somersault
Perform at least 10 consecutive head stomps successfully with Knives.