Slam Bolt Scrappers Trophies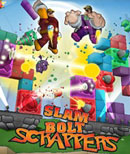 Total Trophies: 17Slam Bolt Scrappers is a mash up of building and brawling! Reach for the sky and build the greatest towers in Slam Bolt City while defending against deviously charming baddies and epic bosses. Play with up to three of your friends in the co-op campaign or go head to head in the simple, yet surprisingly deep competitive battle mode.

Trophies:
Master Architect
Build a 10×10 weapon (on any level other than Mega Blocks).
King of the Mountain
Beat Mountain Top 1.
Downtown Defender
Beat Downtown 2: The Skyscraper.
Unstoppable
Knock out 20 opponents without dying in a single match.
Lucky
Get past the enemy hoard in Armageddon without dying.
Battle is Best
Play 25 Battle Mode matches.
Grubby
Beat 1000 grubs.
Chicken Puncher
Beat 100 demon cavalry.
Multitasker
Win a match using beverage mode controls.
Slam Bolt Royalty
Beat all the hidden campaign levels.
Cat Burglar
Steal your way to victory.
Perfectionist
Beat Mountain Top 1 without taking any damage.
Creep Rights Activist
Win a level without kill any baddies.
Silver City Savior
Beat the campaign.
Man vs. Machine
Win a 1vs2 battle against 2 Hard CPs.
What Campaign?
Play 100 Battle Mode matches.
Fire Chief
Beat all campaign levels on expert difficulty.