Sonic The Hedgehog Trophies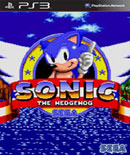 Total Trophies: 12This is the original Sega Genesis Sonic The Hedgehog game. Now available to play on your Playstation 3!

Trophies:
Centurion
Get 100 or more rings.
Clear Green
Clear the Green Hill Zone.
Fast Green
Beat Green Hill Zone Act 1 in under 35 seconds.
Fast Marble
Beat Marble Zone Act 1 in under 80 seconds.
Star Light Zone
Get to the Star Light Zone.
Spring Yard Zone
Get to the Spring Yard Zone.
Labyrinth Zone
Get to the Labyrinth Zone.
Chaos Emerald
Get one Chaos Emerald.
Chaos Master
Get all the Chaos Emeralds.
Win
Beat the game.
Fast Win
Beat the game in under 40 minutes.
Perfect Win
Beat the game without dying.