Warp Trophies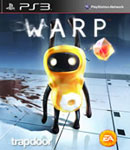 Total Trophies: 12Warp is a unique stealth action game that feature a top-down sci-fi world with a distinctive art style, addicting levels, hazardous traps and challenging puzzles.

Trophies:
Over Exposed
It's best not to leave any recorded evidence.
Stupid Toy
Do they think you're a pet?
King Grubulon
These things are everywhere.
Challenged
Completing all of these shows mastery of your abilities.
Crossfire
What happens when soldiers duel?
Murder Artist
For only the most creative killers.
Rival
They got gold? Are you going to let them beat you?
Corpse Killer
See what these humans are made of.
Hidden Trophies:
Consequences
Make the humans pay for what they've done.
Sunlight
It's been a while since you've been outside.
Cuddles
Just because you can kill everyone, doesn't mean you have to.
In a Rush
There is no use sticking around longer than necessary.