Ninja Gaiden 3 Trophies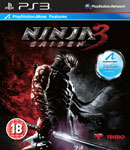 Total Trophies: 51Ninja Gaiden 3 offers for the first time a look at the world through Hayabusa's eyes, showing what drives him to fight, and kill. At the center of the conflict this time around is a masked man whose motivations and goals are unclear. Through mysterious powers, he changes Hayabusa – and the lines between hero and villain, good and evil, are blurred forever.

Trophies:
Master of the Secret Arts
Obtain all trophies.
Falcon Dive
Learn the Falcon Dive.
Sliding
Learn how to slide.
Kunai Climb
Learn the Kunai Climb.
Wall Run
Learn the Wall Run.
Flying Bird Flip
Learn the Flying Bird Flip.
Rope Crossing
Learn how to cross a rope.
Izuna Drop
Learn the Izuna Drop.
Ultimate Technique
Learn the Ultimate Technique.
Steel on Bone
Cut down 100 enemies with Steel on Bone attacks.
I Got Your Back
Play a Co-op Ninja Trial with a partner.
Initiation
Play a Clan Battle.
Teamwork
Win 10 team battles.
One Against the World
Win a battle royale match.
Shady
Perform a betrayal.
Sneaky
Perform a ghost kill.
An Honorable Death
Perform harakiri.
Snowman
Play the Snowfield stage 10 times.
Guardian of the Village
Play the Hidden Village stage 10 times.
Observer
Play the Watchtower stage 10 times.
The Spice of Life
Get 10 customization parts.
Walking Dictionary
Get 100 kanji.
Hidden Trophies:
???
Hidden Trophy
???
Hidden Trophy
???
Hidden Trophy
???
Hidden Trophy
???
Hidden Trophy
???
Hidden Trophy
???
Hidden Trophy
???
Hidden Trophy
???
Hidden Trophy
???
Hidden Trophy
???
Hidden Trophy
???
Hidden Trophy
???
Hidden Trophy
???
Hidden Trophy
???
Hidden Trophy
???
Hidden Trophy
???
Hidden Trophy
???
Hidden Trophy
???
Hidden Trophy
???
Hidden Trophy
???
Hidden Trophy
???
Hidden Trophy
???
Hidden Trophy
???
Hidden Trophy
???
Hidden Trophy
???
Hidden Trophy
???
Hidden Trophy
???
Hidden Trophy
???
Hidden Trophy