World of Outlaws Sprint Cars Trophies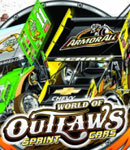 Total Trophies: 48World of Outlaws: Sprint Cars features twelve popular dirt tracks, including Knoxville Raceway and Eldora Speedway. In addition to this, there are five specially made Arenas created exclusively for the multiplayer matches (2-player split screen and up to eight players online.)

Trophies:
Sprint Legend
Unlock all other Trophies to earn this Platinum Trophy!
Veteran
Complete Career Mode.
See Ya!
Give the Bomb to an opponent with 2 seconds or less on the clock in a Online Bomb Tag game.
Mud Runner
Win an Online match.
Hard Charger
Start in last position and win an A Feature.
Half-Dozen
Place first in 6 events in a row.
Skin Of Your Teeth
Finish an A Feature with two or more parts of your vehicle severely damaged.
Local Star
Place first in all Career events on a single track.
Big Earner
Earn 5,000 points in Career mode.
Fully Tricked
Deck out your car with the best upgrade components.
Silver Dollar Jacket
Complete all events at Silver Dollar Speedway.
Down and Dirty
Complete all events at The Dirt Track at Charlotte.
Tag Sale
Rack up 30 Tags in Online Tag games.
Discombombulated
Win 10 Online Bomb Tag matches.
The Need For Speed!
Hit 5 Hot Spots in a row in a Online Hot Spot game.
Fender Bender
Collide with an opponent in mid-air in a Online game.
Mud Eater
Win 10 Online matches.
Grinner
Win an event.
Trio
Place first in 3 events in a row.
Cross Country
Complete a race at each Sprint Car track in single player.
Gonzalez
Set a lap record in single player.
1.21 Jigawatts?!
Hit a top speed greater than 88MPH in single player.
Handle With Care
Finish an A-Feature in Arcade raceday with damage turned on.
Running Blind
Finish a race without using a Tear-Off in single player.
20/20 Vision
Use 40 Tear-Offs in single player.
Baby Steps
Complete Volusia's first event.
Cashing In
Get your first payout from a sponser.
Racer X
Get a Large Trophy in a Speed Challenge event.
Dodgem Car
Get a Large Trophy in an Accuracy Challenge event.
Time Bandit
Get a Large Trophy in a Time Challenge event.
On Your Way
Earn 2,500 points in Career mode.
Ka-Ching!
Purcahse your first upgrade component.
Volusia Victor
Complete all events at Volusia Speedway Park.
I-55 Conqueror
Complete all events at I-55 Raceway.
Knoxville Master
Complete all events at Knoxville Raceway.
Dodge City Slicker
Complete all events at Dodge City Raceway Park.
Cedar Lake Champ
Complete all events at Cedar lake Speedway.
Huset's Hero
Complete all events at Huset's Speedway.
Eldora Expert
Complete all events at Eldora Speedway.
Lernerville Legend
Complete all events at Lernerville Speedway.
Williams Winner
Complete all events at Williams Grove.
Skagit Success
Complete all events at Skagit Speedway.
Come On Down!
Host an Online game.
Just Visiting
Join someone else's Online multiplayer game.
Red Hot
Be 2 Hot Spots ahead of your opponents in a Online Hot Spot game.
On Fire!
Deliver 10 Hot Spots in Online Hot Spot Delivery games.
Home Run!
Finish an Online Bomb Tag game without getting the bomb.
Airtime
Fly through the air for 3 seconds in an Online game.