Assassin's Creed: Brotherhood Trophies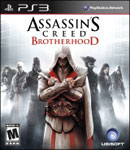 Total Trophies: 61Now a legendary Master Assassin, Ezio must journey into Italy's greatest city, Rome, center of power, greed and corruption to strike at the heart of the enemy. Defeating the corrupt tyrants entrenched there will require not only strength, but leadership, as Ezio commands an entire Brotherhood that will rally to his side. Only by working together can the Assassins defeat their mortal enemies.

Trophies:
Technical Difficulties
Complete Spain Sequence 1
Battle Wounds
Complete DNA Sequence 1
Sanctuary! Sanctuary!
Complete Present Sequence 1
Requiescat In Pace
Complete Spain Sequence 4
Perfect Recall
Get a Sequence to 100% Memory Synchronization
Déjà vu
Replay a Memory
Undertaker 2.0
Complete LGS 1 [Catacombs]
Golden Boy
Complete LGS 2 [Trajan Bath]
Bang!
Destroy the Machine Gun
Splash!
Destroy the Naval Cannon
Boom!
Destroy the Bomber
Kaboom!
Destroy the Tank
Home Improvement
Upgrade 5 buildings in the Antique district
Tower Offense
Kill All the Borgia Leaders
Show Off
Complete 10 Faction Creed Challenges
Perfectionist
Get 3 Gold Medals in VR Missions
Brotherhood
Recruit 3 Assassins
Welcome to the Brotherhood
Have a Trainee reach the Rank of Assassin
Capture the Flag
Remove All Borgia Flags in Rome
In Memoriam
Collect All Feathers
Dust to Dust
Find 1 Artifact in the Present
Serial Killer
Perform a 10 combo-kill streak
Spring Cleaning
Kill a guard with a Broom.
Your Wish is Granted
Throw Money in a Well
Fly Like an Eagle
Jump with the Parachute from the Top of the Castel San Angelo
The Gloves Come Off
Win the highest bet at the Fight Club
Mailer Daemon
Access your Email in the Present
Synchronization Established
Complete an entire Multiplayer Session with at least one kill
Needle in a Haystack
Kill your target while being hidden in a Haystack
Strong Closer
Take the lead 10 seconds before the end of the session and win the game
Fast Learner
Kill your target and escape your assassin in less than 10 seconds
Role Model
Get al the COOP Bonuses in one session
Overachiever
Get a 750 Point Kill or more
Abstergo Employee of the Month
Get Every Bonus at Least Once
Ahead of the Curve
Perform a Double or a Triple Escape
Rome in Ruins
Complete DNA Sequence 2
Fixer-Upper
Complete DNA Sequence 3
Principessa in Another Castello
Complete DNA Sequence 4
Fundraiser
Complete DNA Sequence 5
Forget Paris
Complete DNA Sequence 6
Bloody Sunday
Complete DNA Sequence 7
Vittoria Agli Assassini
Complete DNA Sequence 8
Gladiator
Complete LGS 3 [Colosseum]
Plumber
Complete LGS 4 [Cloaca Maxima]
One-Man Wrecking Crew
Complete LGS 5 [Lateran Palace]
Amen
Complete LGS 6 [St. Peter's Basilica]
.. .- — .- .-.. .. …- .
Solve all of Subject 16's Puzzles
Job Skills
During an Open Conflict, kill your target and escape
Download Complete
Reach Level 50
A Knife to the Heart
Complete the Game
Julius Caeser
Get Every Trophy
Da Vinci's Disappearance DLC Trophies
Strong-Arm
Throw a Long Weapon, Heavy Weapon, and Smoke Bomb more than 10 m at a guard.
High Roller
Win 10000 florins playing Hazard.
Airstrike
Kill 10 guards with a single arrow storm.
Special Delivery
Double Assassinate from a parachute.
Grand Theft Dressage
Steal 5 horses from their riders, while remaining on horseback.
Going Up
Kill a guard with the bag that drops from a lift.
Easy Come, Easy Go
Pay 500 florins to an orator, then pickpocket him afterward.
il Principe
Receive 100% synch in ACB and full synch in all missions of the Da Vinci Disappearance.
GPS
Complete the Da Vinci Disappearance.
Clowning Around
Beat up the 5 thirsty harlequins.