Crash Time 4 – The Syndicate Trophies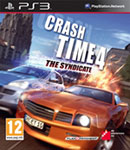 Total Trophies: 33In Crash Time 4, players are chasing down a criminal syndicate, whose members are trying to stop the police and gain control over the scenic city of Cologne. Based on the German TV series Alarm für Cobra 11, players slip into the roles of the two highway cops Semir and Ben, the TV series' main characters. Thus, players go through various missions based on the events of the TV series.

Trophies:
100% Clear
This trophy will unlock once you have earned all other trophies.
The Usual Nonsense
Level 1 finished.
Answer All Questions
Level 2 finished.
The Syndicate
Level 3 finished.
Alone against the Evil
Level 4 finished.
By all Means
Finish your career successfully.
Vision becomes Truth
100% of the Single Player Game completed
Garage Owner
Unlocked every car.
Track Owner
Unlocked every track.
Test Driver
Driven every car in the game at least once.
Track Tester
Driven a race on every track in the game.
Peeping Tom
Installed every single camera possible.
Police Questioning
Activated every single informant possible.
Race King
30 Laps on racing track "Sprit-Raceway (R)".
Off-road King
30 Laps on off-road track "4×4 Club Circuit (R)".
Amateur
Won 10 single races.
Pro
Won 50 single races.
Pilgrim
Driven 1000 km in the game.
Hotshot
Destroyed 10 enemies.
Riot
Made 100 vehicles explode.
Rampage
Trashed 1000 Objects.
Roadhog
Collided 100 times with traffic.
State of Emergency
Caused €1 million damage during one race.
Clean Lap
Drove a lap without causing any damage.
Clean Race
Finished one race without causing any damage.
Long Jump
Jumped 100 m.
Free Fall
Fell 30 m.
Wrong Direction
Driven 200 m backwards.
Car-Scrap Bonus
Totaled your car.
No Speed-Limit
Driven 280 km/h for 15 seconds.
First Online Victory
Won an online event (ranked or standard) in any mode.
Unlimited Health
Played a deathmatch to the end without dying.
Godmode
Won a deathmatch without dying.