Fifa 10 Trophies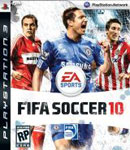 Total Trophies: 52FIFA 10 features core gameplay refinements based on responsiveness and intelligence, plus a completely overhauled Manager Mode that includes more than 50 major improvements.

Trophies:
Football Legend
Unlock all other trophies (excluding additional content trophies)
Shooting Boots
Score 5 goals in 1 Arena kick-about
Off the Woodwork
Score off the post or cross bar in a match
Still Practicing?
Score 20 goals in one arena kick-about.
Camera Man
Upload a video to EA SPORTS Football World
Hard Earned Win
Beat a 5 Star team with a 1/2 Star team Online or when playing Professional difficulty or higher
Grind it Out
Win a match with 10 men Online or when playing on Professional difficulty or higher
Cup Upset
Win a 16 team Tournament with a 1 star team when playing on Professional difficulty or higher
Wheeler Dealer
Buy 50 players in your Manager Mode career
Challenging Schedule
Complete a Manager Mode Season without simming a game
Good Friend
Create a goal for a Friend with a cross
Real Fan
Play for over fifty hours
Well Travelled
Win a match in every stadium
Total Control
Win a match with fully manual settings (no assistance can be switched on)
Top of the League?
Win a match in a Friends League
Photographer
Upload a Screenshot to EA SPORTS Football World
Lounging Around
Score 2500 points and win 5 Badges in a single Lounge Mode match
A Star Is Born
Create a Virtual Pro
Around the World
Play a match with a team from every league
Always Available
Complete a season in Be A Pro: Seasons without simming a game
Underdog
Win an Online Head to Head Ranked match using a weaker team than your opponent
Experimental
Play 5 consecutive Online Head to Head Ranked matches using a different team
Gutsy Call
Take an Online Head to Head Ranked match to extra time playing as a weaker team than your opponent
Ton up
Win 100 Online Classic Ranked Matches
Team Player
Play a Pro Club Championship match as a full team (10 players)
Good Support
Play an Online Team Play match with your favourite team
Time For a Testimonial
Play 500 matches with your virtual pro
Skilled Pro
Unlock 100 EA SPORTS Football World Accomplishments with your Virtual Pro
Looking Good
Download you Game Face from EA SPORTS Football World
Recognise Anyone?
Download your Club member Game Faces from EA SPORTS Football World
Double Champs
Win consecutive League titles in any top tier League in Manager Mode
Climbing the Ladder
Win consecutive promotions with the same Club in Manager Mode
The Treble
Win 3 trophies in 1 Manager Mode Season
Established
Become a 5 Star Manager
No Pressure
Achieve 100% Board Confidence at any Club in Manager Mode
Window Shopping
Visit the FIFA 10 Store
Theatre of Dreams
Upgrade you Stadium Manager to Level 10
Globetrotter
Win titles in all 5 major European Leagues (England, France, Italy, Germany and Spain)
Phoenix from the Ashes
Make a 5 Star team out of a 2 Star team or lower within 5 seasons in Manager Mode
Good Form
Play 5 consecutive Online Head to Head Ranked matches without losing
Practice Makes Perfect
Work on your skills in Practice Mode
Limited Resources
Win a League or Cup in Manager Mode with a 1 Star Team or lower
Ultimate Team DLC Trophies:
Tournament Winner
Win a trophy in Ultimate Team mode
Match Winner
Win 10 Matches in Ultimate Team mode
Tournament Champion
Win 10 Trophies in Ultimate Team mode
Tournament Legend
Win 25 Trophies in Ultimate Team mode
Perfect Chemistry
Win a match in Ultimate Team mode with a 100 Chemistry squad
International Unity
Win a Ultimate Team mode match with a 100 chemistry squad where no players is from the same nation
Coalition of the Willing
Win a Ultimate Team mode match with a 100 chemistry squad where no player is from the same club
A Good Start
Open 10 Ultimate Team packs
Pack Rat
Open 100 Ultimate Team packs
Resource King
Open 500 Ultimate Team packs