Gran Turismo 5 Trophies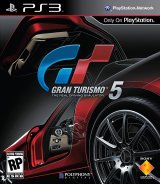 Total Trophies: 59Developed exclusively for PS3 by Polyphony Digital, Gran Turismo 5 brings the world's most realistic and comprehensive driving experience to fans in one of the most highly anticipated games of all time. Gran Turismo 5 features more than 1000 licensed cars from the world's top manufacturers and more than 20 tracks with more than 70 variations, including famous world circuits, city courses, and other environments.

Trophies:
Penniless
Spend every last Credit you have
Colorful
Collect 256 paint colors
The Air of Experience
Raise a B-Spec driver to the peak of this career
A Star is Born
Train a B-Spec driver up to Class 30 or above
Human Stopwatch
Complete three consecutive laps with tomes within 0.2 seconds of the Best Lap Time
GT-R Official Record
Achieve a time of 7´29.03 on Nurburgring Nordshleife in a Nissan GT-R 07
Dream Race
Win the ultimate three-way showdown between a FordMark IV Race Car, a Ferrari 330 P4 R
Arch Rivals
Achieve a one-two finish in a Mitsubishi Lancer Evolution X and a Subaru IMPREZA WRX STI
Within One Hundredth
Win a race by a margin of 0.01 seconds or less
111 Meters a Second
Achieve a speed of 400km/h
Speed Demon
Achieve a speed of 300km/h
Sky-High Roller
Buy an insanely expensive car
High Roller
Bought a seriously expensive car
Maximum Mileage
Buy a used car with 300 000km or more travel distance
Half a Century of Cars
Own at least one car each from the ´60s, ´70s, ´80s, ´90s and ´00s
Old-Timer
Acquire a car manufactured in 1959 or earlier
Multi-Millionaire
Possess an Insane amount of money
Car Collector
Fill your Garage with 1000 cars
Beyond the Autobahn
Drive 12,718km in total – the length of all Germany´s Autobahns combined
Driving Music
Use the Personal BGM function, and go for a drive while listening to your favorite songs
Data Analyst
Analyze your performance using the Data Logger
Dream Drifter
Get 10 000 points or more in a Sector Mode Drift Trial
Race Ready
Perform Racing Modifications on one of your cars
Loony Tune
Spend an Insane amount of money on tuning a car
Course Designer
Create and share a track
Proud Owner
Take and Share a photo
The Right Direction
Win your first B -Spec event race
Win Number One
Win your first A-Spec event race
Gran Turismo Karting Experience
Complete the Gran Turismo Karting Experience Special Event
Jeff Gordon NASCAR School
Complete the Jeff Gordon NASCAR School Special Event
Top Gear Test Track
Complete the Top Gear Test Track Special Event
AMG Driving Academy
Complete the AMG Driving Academy Special Event
Gran Turismo Rally
Complete the Gran Turismo Rally Special Event
Grand Tour
Complete the Grand Tour Special Event
Sebastien Loeb Rally Challenge
Complete the Sebastien Loeb Rally Challenge Special Event
National C License
Complete the C License
National B License
Complete the B License
National A License
Complete the A License
International C License
Complete the International C License
International B License
Complete the International B License
International A License
Complete the International A License
Super License
Complete the S License
Beginner Series Complete
Complete the Beginner series of Race Events
Amateur Series Complete
Complete the Amateur series of Race Events
Professional Series Complete
Complete the Professional series of Race Events
Expert Series Complete
Complete the Expert series of Race Events
Extreme Series Complete
Complete the Extreme series of Race Events
Expert Manager
Reach B-Spec Level 40
Excellent Driver
Reach A-Spec Level 40
Finale
Reach the ending movie.
Gold Standard
Get a gold trophy in every race event, license test and special event
Gran Turismo Platinum Trophy
Earn every single Gran Turismo 5 Trophy
Hidden Trophies:
Endurance Series Complete
Complete the Endurance series of Race Events.
Red Bull X1 Challenge
Complete the 'Red Bull X1 Challenge' Special Event.
Watch Out for Falling Objects
Make a part of your car fall off while driving.
Rollover
Total a car by flipping it over.
Take Your Honda Home
Take a photo of a Honda passing in front of the Honda head office on the Tokyo R246 track.
Picture Exclusive
Take a picture of a special someone as he stands in Kyoto's Gion district.
Portraitist
Take a portrait of a solitary lady who appears on the Marktgasse in Bern.
Grand Finale
Reach the long version of the ending movie.