Nier Trophies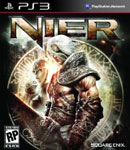 Total Trophies: 42Nothing is as it seems in this action adventure game, set in a crumbling world plagued by disease and dark, unrecognizable creatures. Players assume the role of the unyielding protagonist, Nier, resolute in his quest to discover a cure for his daughter, who is infected with the Black Scrawl virus. With powerful allies and a mysterious book, Nier encounters things that will confound even the mightiest of warriors.

Trophies:
Combo Fanatic
Pull off a 50-hit combo.
The Magic Man
Learn every type of magic.
Wordsmith
Collect 50 percent of all words.
Village Handyman
Complete 10 quests.
Jack of All Trades
Complete 20 quests.
Man of Means
Accumulate 1,000,000 pieces of gold.
Educated Warrior
Read the final novel segment.
Combo Master
Pull off a 100-hit combo.
Weapons Collector
Find every weapon.
Go-To Guy
Complete 30 quests.
King of the Lost Shrine
Defeat Gretel within two and a half minutes.
A True Friend
Defeat a berserking shade within one minute.
Boss of the Junk Heap
Defeat P-33 within four and a half minutes.
Scourge of the Aerie
Defeat Wendy within eight and a half minutes.
Protector of Facade
Defeat Roc within three and a half minutes.
Permission Granted
Defeat the betrayers within two and a half minutes.
A Dirge for the Hero
Defeat Goose within two minutes.
Soul Crusher
Defeat the betrayers within three and a half minutes.
Book Burner
Destroy the world-saving tome within one and a half minutes.
The Once and Final King
Defeat the Shade inside you within three and a half minutes.
The Strongest Bond
Defeat someone you care for within three and half minutes.
???
Hidden Trophy
???
Hidden Trophy
???
Hidden Trophy
???
Hidden Trophy
???
Hidden Trophy
???
Hidden Trophy
???
Hidden Trophy
???
Hidden Trophy
???
Hidden Trophy
???
Hidden Trophy
???
Hidden Trophy
???
Hidden Trophy
???
Hidden Trophy
???
Hidden Trophy
???
Hidden Trophy
???
Hidden Trophy
???
Hidden Trophy
???
Hidden Trophy
???
Hidden Trophy
???
Hidden Trophy
???
Hidden Trophy