Warriors: Legends of Troy Trophies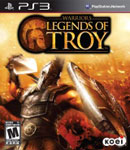 Total Trophies: 51From the creators of Dynasty Warriors comes an unbelievable game that tells the tale of the epic Trojan War. In this ancient time, men and gods fought alongside one another for eternal glory. Carve your name into history as you experience amazing action and incredible mythology.

Trophies:
Perfect!
Perform a 6-hit combo of Perfectly-Timed Quick Attacks on enemies.
I Love Items!
Buy 10 items.
There's No Escape!
Kill a fleeing enemy by throwing a picked-up weapon.
They See Me Rollin', They Hatin'
Perform a rolling Quick Attack on an enemy from behind.
Denied!
Perform a parry on an enemy's parry in a duel.
I'm Just Getting Started…
Kill 1000 enemies.
First Action Hero
Defeat an enemy hero.
First Blood!
Kill a special enemy.
'Twentieth' Blood!
Kill 20 special enemies.
No Mercy!
Perform 20 Finishers.
I Like Choreography
Perform 3 different Finishers with each hero.
A Lot of Blood
Kill 50 enemies while in Fury.
Practice Makes Perfect
Perform 100 Perfectly-Timed Attacks on enemies.
Now That's Just Mean…
Kill 10 fleeing enemies by throwing picked-up weapons.
No Vacancy
Complete a chapter with enough items equipped to completely fill the largest item grid.
By the Gods!
Kill 500 Trojans in Plague on Expert difficulty.
10-Second Knockout
Defeat an enemy hero in under 10 seconds.
Efficient Killer
Perform a Finisher on each of the 6 special enemy types.
Too Fast to Furious
Completely fill the maximum fury meter in under 2 minutes without using items that generate fury.
The Underdog
Win a duel after entering it with critical health.
Time Extension!
Maintain your Kleos for 3 minutes during a chapter.
Bless You
Collect a Blessing.
Gordie Howe Hat Trick
Complete the Arena, Rampage and Bloodlust challenges.
Here Comes A New Challenger
Reach Hektor in the Epic Bloodlust challenge within 10 minutes.
That Wasn't Too Hard…
Complete the game on Hard or Expert difficulty.
It's over 9000!!!
What! 9000 (kills)? There's no way that can be right! Can it?
A Perfect Amount of Blood
Kill 496 enemies while in Fury.
Without a Scratch
Complete a chapter without being damaged on Hard or Expert difficulty.
Are You Tough Enough?
Complete a chapter without equipping any items on Hard or Expert difficulty.
Epic Success
Complete the Epic Arena, Epic Rampage and Epic Bloodlust challenges.
Life is a Blessing
Collect all Blessings in a chapter.
A Lot of Time on Your Hands
Complete all secondary objectives on any difficulty.
I'm Really Good at Action Games.
Complete the game on Expert difficulty.
Items Make Games Awesome
Buy all of the items.
Legendary Status
Earn all of the trophies in Warriors: Legends of Troy.
Hidden Trophies:
???
Hidden Trophy
???
Hidden Trophy
???
Hidden Trophy
???
Hidden Trophy
???
Hidden Trophy
???
Hidden Trophy
???
Hidden Trophy
???
Hidden Trophy
???
Hidden Trophy
???
Hidden Trophy
???
Hidden Trophy
???
Hidden Trophy
???
Hidden Trophy
???
Hidden Trophy
???
Hidden Trophy
???
Hidden Trophy