Feeding Frenzy 2: Shipwreck Showdown Trophies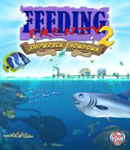 Total Trophies: 12In Feeding Frenzy 2, you start as a tiny fish striving for ocean supremacy in a sea full of predators. Eat your way to the top of the food chain, from tiny butterfly fish to a great white shark. Feast upon fish smaller than you and you'll grow bigger and bigger. Avoid predators, or you'll become THEIR meal.

Trophies:
Well Fed Fish
Awarded for eating 5000 fish
Life of the Party
Compete in Party Games to accumulate 1000 Party Points
Barracuda Bully
Awarded or biting a Barracuda's tale four times
Flippin' Good Time
Awarded for completing a Quadruple Flip
Well Defended
Awarded for accumulating 3 simultaneous fish fields
Mega Frenzy
Awarded for reaching the maximum FRENZY multiplier in a single player game
School Teacher
Awarded for consuming 500 schools or swarms
Full Tank
Awarded for unlocking all Fish Upgrades
The Intruder
Awarded for defeating the Intruder
Fish Upgrade
Awarded for your first fish upgrade
Fast Food
Awarded for chomping through Time Attack!
Frenzyfest Master
Awarded for coming in first in a Frenzyfest